BL Labs Launch: Palaeographers speak with forked ascenders...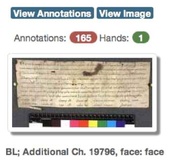 The British Library launched their BL Labs initiative last Monday, inviting presentations from various Digital Humanities-related projects in order to inspire entries for the forthcoming BL Labs competition.[1] Talks were delivered in adrenaline-pumping, lightning-round Pecha Kucha format -- twenty slides slides per speaker, with the slides automatically changing every 20 seconds.[2] The room soon filled up and extra chairs were whisked in to cope with the burgeoning numbers, the sense of excitement palpable. In my case, an added element of excitement was the opportunity to showcase some of the latest developments from the DigiPalian Universe.[3]
[1] There's a £3,000 cash prize on offer and a residency at the BL in which the prize winner can develop their idea with the support of BL curators and the BL Labs team.
[2] Though some speakers cheated, and opted for manual transition between slides. Tsk! Where's the fun in that?!
[3] New all-singing, all-dancing digipal.eu website is coming to a screen near you soon. Very soon! (Disclaimer: Singing and dancing is not obligatory, but is an acceptable response if you really like our new site.)
The BL Labs launch (try saying that quickly, twenty times!) made for interesting listening and participation. Mahendra Mahey, the newly-appointed project manager for BL Labs, explains on the project website that the initiative is about getting researchers to "use their ideas, skills, experience and techniques to create new narratives from the British Library's vast incredible digital collections ... [helping] the Library to understand the tools and services that researchers need to unlock these fascinating and diverse digital collections." Aly Conteh, head of the digital research and curator team, noted that they want the BL Labs competition to encourage the development of innovative models which exploit the British Library's digital content.
One question which all need to remember, of course, is whether research questions lie at the heart of any Digital Humanities project -- otherwise it's simply amassing material, albeit presented on a whizzy digital platform.
The Pecha Kuchas (is that the plural? My Japanese is somewhat rusty) were interesting, with one of my favourites being that by Marc Alexander (University of Glasgow) on the Mapping Metaphor with the Historical Thesaurus project.  Before long, Twitter was buzzing with crucial revelations from the event: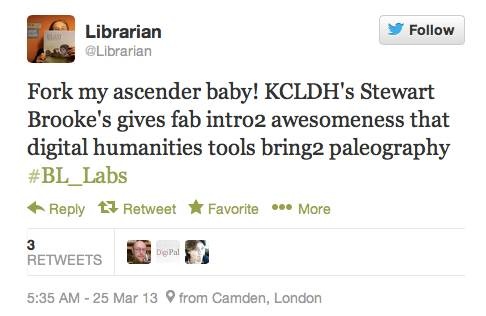 Do we not all love the letter 'g'?! Before I reach the Pecha Kucha limit of 6 mins and 40 secs in this blog, here are some of the images from my presentation.
1) Getting boxed in -- discussing the annotation of letters and component parts: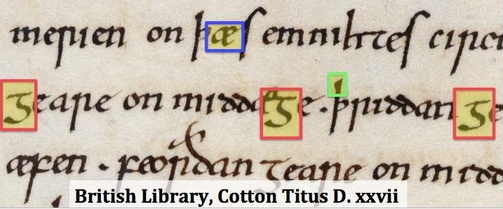 2) A few of my favourite examples of 'g' from Aldred's gloss to the Lindisfarne Gospels. What's not to love?!

(NB: The error in numbering is what happens when I do things 'manually' instead of using DigiPal's "Show allographs" option.)
 3) Prototype of DigiPal's new "Filter Manuscript Images" options: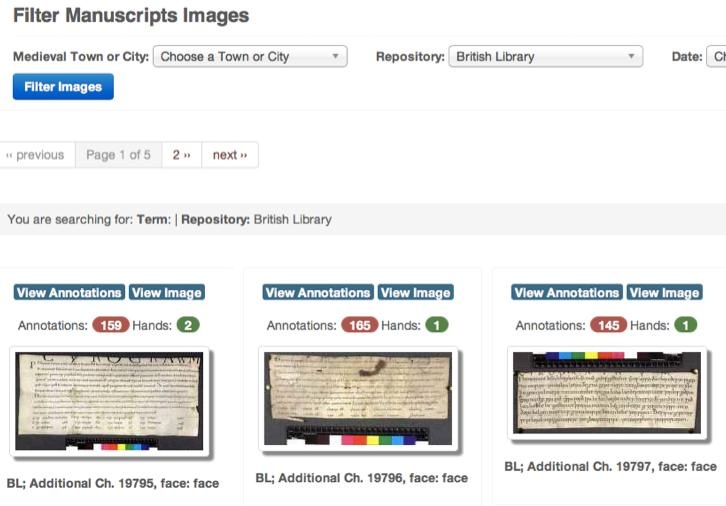 4) Image annotation in action (it's only a coincidence that I chose 'g', I'm not obsessed!):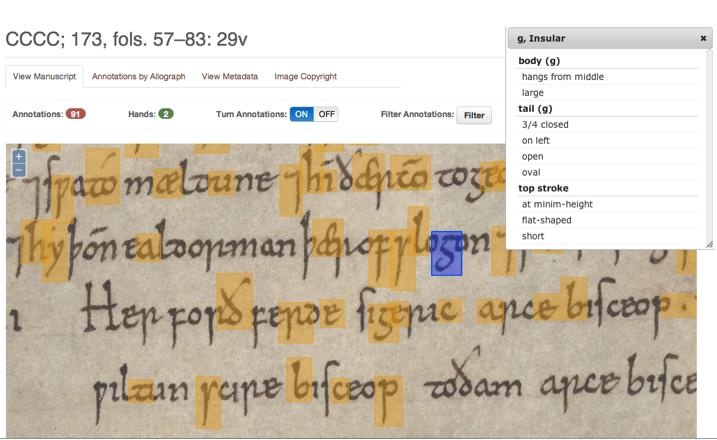 And finally...

The BL Labs slogan for the day was: Every book tells a story, but what can 68,000 books tell you?
Here at DigiPal Towers we might ask: If every manuscript tells a story, what might 46 examples of Aldred's 'g' tell you?
(With my thanks to Stella Wisdom for organising the event and making sure it all ran smoothly.)
Links of related interest
(Images from Cambridge, Corpus Christi College, MS 173 reproduced by permission of the Master and Fellows, Corpus Christi College Cambridge. Images from British Library manuscripts are copyright the British Library.)
Share on Twitter
Share on Facebook